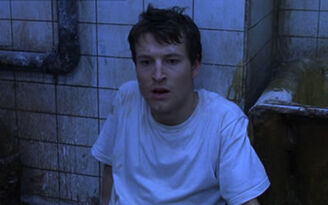 Adam Faulkner-Stanheight
is one of the
protagonists?
of the
2004
film, 
Saw
. He is played by Leigh Whannell, who is actually the writer of the first three films in the
franchise
.
Can survive sleeping underwater
Mostly just asks questions, leaves his mouth hanging open, and acts hysterical
Whannell says he gave Adam all the best lines in the movie
I think we can all agree that speaks volumes
No one can quite agree on his last name
Being tested for taking pictures of people cheating on their spouses, which one would think seems like a sin much more worthy of being tested...
Can't fake dying worth a fuck
Appears as a rotting corpse anytime they show the Bathroom Trap after the first film
That might be an improvement in acting talent
Community content is available under
CC-BY-SA
unless otherwise noted.