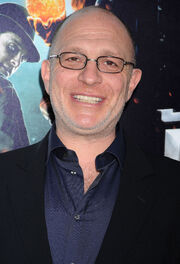 Akiva Goldsman is an Oscar-Winning (!) screenwriter, producer, and director. He is notable for inventing the Bat Credit Card.
Has been drafted to help craft a Transformers Cinematic Universe in what can only be assumed to be an attempt to drive Damien and James insane
Gave Michael David Sims a concussion indirectly
Won an Oscar for a film that got all the facts wrong and white-washed the lifestory of a bisexual anti-semite who kept a secret wife and child
That probably would have been a better movie than Pity the Mentally Ill The Movie: Part 4789
No one knows if he or Ehren Kruger is a bigger hack
Lost in Space
Practical Magic
The Da Vinci Code
I am Legend and its reboot
I, Robot
Angels and Demons
Winter's Tale
Insurgent
The Fifth Wave
King Arthur: Legend of the Sword
The Dark Tower
Community content is available under
CC-BY-SA
unless otherwise noted.