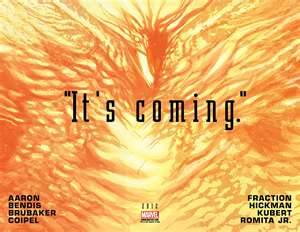 Avengers VS. X-Men
is a
2012
Marvel Comics crossover maxiseries event. It was reviewed by
James
and
Michael David Sims
on
Earth-2.net: The Show
, Episode 566 in a special
E2TS/Tranquil Tirades
crossover.
What did we learn from this maxiseries?
Edit
Not a whole lot
Marvel apparently has staggeringly low standards for books they charge $3.99 for.
Cyclops is a complete fucking idiot and is now the ultimate piece of shit in the Marvel Universe
Captain America, the most brilliant strategist in the Marvel Universe, thinks it would be a really great idea to arbitrarily punch a guy with an unbreakable metal skeleton in the face.
Captain America apparently thinks that Hope Summers--who is like 15 years old and has spent about six total months with the X-Men--knows more about the Phoenix Force and the X-Men than Wolverine.
Cappy also kicks Wolverine out of an aircraft into Antarctica just because he made a solo play on Hope and scared her off. Who needs to reason with someone if you can just abandon them in a frozen wasteland?
Hope just happens to know where Wolverine was dumped with no explanation as to how she figured it out.
Wolverine apparently has psychic powers that let Captain America know where he and Hope were after Steve dumped him in the icy wasteland.
Cyclops loves shooting people in the face with optic blasts.
It took Tony Stark twelve issues to come up with the brilliant plan to combine Hope and Scarlet Witch's powers to take down Cyclops.
Spider-Man can take a punch to the face from a Phoenix-powered, Juggernaut-powered Colossus and not only live, but quip afterwards.
The Phoenix Force is weak against Dragons powered by Iron Fist aura. Except the dragon shown in this series is defeated in three panels.
Wolverine thinks he can kill Hope even though she would have gained his mutant healing factor by being near him.
Magneto, who stood against Cyclops with the rest of the heroes, is on the run for literally no reason at the end of the series.
Storm feels that the best time to yell at her husband, the Black Panther, about their marital troubles is during a battle that could determine the fate of a teenage girl, and subsequently, the world.
James: Buffalo
Community content is available under
CC-BY-SA
unless otherwise noted.