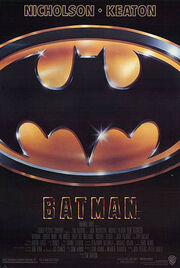 Batman is a 1989 superhero film directed by Tim Burton and starring Jack Nicholson, Michael Keaton and Kim Basinger.
It is notable for being the movie that eventually made Batman: The Animated Series possible and the entire DC Animated Universe. For that, we all owe it a debt a gratitude. However, the movie has aged terribly, and is massively flawed nearly from start to finish with horrible dialogue, plot holes galore, and Batman becoming a mass-murderer. (The music was brilliant, though.)
The movie was covered by James, Michael David Sims, and Ian Wilson as part of the "Dark Knight Discussions" series on Earth-2.net: The Show Episode 266.
Batman runs around killing a handful of thugs, while trying to stop the Joker, who is running around killing everyone. Meanwhile, a completely unlikeable bitch stalks Bruce Wayne.
This was one of the most anticipated episodes of Earth-2.net: The Show up to that point, as Mike Sims had made his displeasure with the Burton Batman films extremely vocal on World's Finest Podcast and the Earth-2.net forums.
The first instance of Mike Sims banging his head on a desk
"Shoot to kill, if you know what I mean." I think "shoot to kill" kind of implies what you mean, dude.
As this review was done on Earth-2.net: The Show (and was well before the Tranquil Tirades podcast and the Final Word existed), this review followed the standard Earth-2.net: The Show numeric grading scale of 0-5.
James: 3/5
Mike: 2/5
Ian: 3/5
Community content is available under
CC-BY-SA
unless otherwise noted.