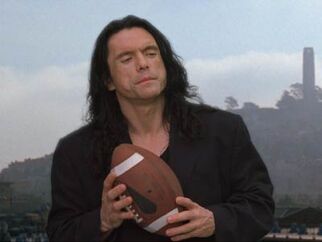 Eastern European Football
is a variation on the American sport with wildly different rules and regulations.
Only 2 to 3 players should be on the field at one time. Adding a fourth is considered highly dangerous and has lead to the injury of several players. (See: Rhombus of Fun)
The players on offense and defense should be a maximum of five feet away from each other.
For the most part, hiking the ball is considered passѐ in today's game, and is not done often.
Upon completion of a pass, it must be followed with another.
Tuxedos are the traditional uniform, though top hats and doilies have been banned in the league for quite some time.
Wearing a cravat and a dickey is much more acceptable.
The spork has been banned in the league since 1972. The foon is illegal in all states except Wyoming and Georgia.
The field is measured not in yards, but a proprietary unit of measurement known only as dinglehoffers. The standard field is roughly 863 dinglehoffers long.
Community content is available under
CC-BY-SA
unless otherwise noted.