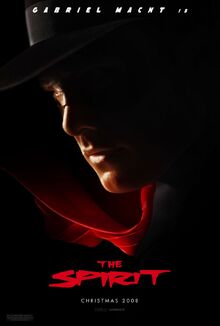 The Spirit is a 2008 neo-noir action film directed by Frank Miller, starring Gabriel Macht, Samuel L. Jackson and Scarlett Johansson. It is a very, very, very, very, very, very, very loose adaptation of the Will Eisner pulp comic book.
It is notable for its portrayal of all women as mindless deviants driven only by base sexual and/or destructive desires.
And Sam Jackson dressing as a Nazi for reasons still unknown.
A zombie has to stop Jules Winnfield from turning himself into an immortal, while simultaneously eyeball-fucking every woman he crosses paths with.
The fifth comic book adaptation covered on the show
James - Cesspool
Damien - Ghost
The repeated Overwatch and College Humor Batman references
The 'Frank Miller needs to get laid' informal count
The workshop about why The Octopus didn't kill The Spirit
The response to Cole's feedback
No Country for Old Men
Sin City
Chemical Brothers
Jack White
Die Antwoord
The Dark Knight
Spawn (film)
Assassin's Creed
Will Eisner
Zorro (pulp hero)
Minnesota Timberwolves
Overwatch
Doonsburry
Batman (1960s)
Inspector Gadget
Dennis Rodman
Christopher Walken
Red Dead Redemption
Evil Dead
Hollywood Undead
Dead Rising
The Grateful Dead
Batman
The Joker
George Foreman
Superman
Buster Keaton
LA Noire
Danny Phantom
Johnny Unitis
Robin Williams
Jumanji
The Rock
Doctor Who
Sugar Ray
Joe Frasier
Barbie
Prince
Star Trek
Vincent Price
Final Fantasy 10
Sega Pico
Castle
Ghostbusters
Who Framed Roger Rabbit?
The Simpsons
Deadpool
Apocalypse (character)
Mortal Kombat 3
Street Fighter
James Bond
Austin Powers
Judge Dredd
Call of Duty
Mortal Kombat 9
Ghost Rider
Transformers (series)
D.B. Cooper
Leo Tolstoy
Fyodor Dostoyevsky
The Last Knight
Prometheus
Alien
Aliens
Alien: Isolation
Daredevil
The Dark Knight Returns
The Beginners Guide
Doom (2016)
Mass Effect (series)
Mass Effect: Andromeda
Stand Still Stay Silent
Homestuck
Desmond Reddick
Austin Walker
The Last of Us (game)
Fight Club
Chuck Palahniuk
Star Wars
Pulp Fiction
Quentin Tarantino
Reservoir Dogs
Jackie Brown
Pam Grier
Joss Whedon
Nirvana
Game of Thrones
CM Punk
Virgil
WWE
The Hardy's
ROH
Matt Hardy
Bray Wyatt
Trials of Cold Steel
The Room (game adaptation of the film)
Are You Hot: Searching For America's Hottest People
Mega Python vs Gateroide
Avengers Grimm
Once Upon A Time
Sharknado
Sharktopus
Amy Jo Johnson
Kurt Angle
Sand Sharks
Brooke Hogan
Pro Wrestlers vs Zombies
Sid Vicious
Roddey Piper
PAXAMANIA
Edgar Allen Poe
Sam Jones
Brad Bird
The Incredibles
Fantastic Four
Dick Tracy
Citizen Kane
Suits
Orson Welles
Total Extreme Wrestling
Kane (wrestler)
Previous Episode: Episode 65 - Mega Shark VS. Giant Octopus
Next Episode: Episode 67 - Fun in Balloon Land
Community content is available under
CC-BY-SA
unless otherwise noted.