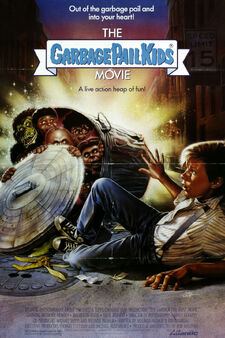 The Garbage Pail Kids Movie is a 1987 fantasy film based on the children's trading card series of the same name.
If it weren't for the fact that 1987 gave us Jaws: The Revenge, Superman IV: The Quest for Peace, and Leonard Part 6, this thing would have probably cleaned house at the 8th Golden Razzies.
An abused 14-year-old gets manipulated by a Saved by the Bell reject, while trying to find the friends of disgusting garbage-can-dwellers from outer space.
To date, this is the last recorded episode of the show.
James - Zoidberg 
Damien - Horror 
Bubsy
The Garbage Pail Kids (trading cards)
Jim Cummings
Mackenzie Aston
Sean Aston
The Magicians
Mad Men
Castle
Agents of Shield
Lost
The Outer Limits
The Facts of Life
Singled Out
Jenny McCarthy
College Humor Wolverine
Shia LeBouf
Juventud Guerrera
Back to Back
Silk Stockings
Streets of Rage
Hitman
Fantastic Four
Batman: The Animated Series
Big League Chew
Charleston Chew
Mike and Ikes
Friday the 13th
Friday the 13th: The Game
Friday the 13th: Part 6
Kane Hodder
Friday the 13th Part 8: Jason Takes Manhattan
The Toxic Avenger
The Simpsons
Madonna
Burger King
Who Framed Roger Rabbit?
Michael Jackson
Sergeant Pepper's Lonely Hearts Club
Rock Band
Los Angeles Dodgers
Jim Gaffigan
The Three Stooges
Die Hard
Daniel Bryan
Fandango (wrestler)
Looney Tunes
Ape Escape
Married...with Children
Robin Hood: Men in Tights
Highlander
UHF
Smackdown
John Cena
Soulcalibur 2
Tekken
Barney the Dinosaur
Wayne's World
Rey Mysterio
Troll
Harry Potter
Friday the 13th Part 7
A Nightmare on Elm Street
Anthony Newley
Transformers (series)
Futurama
Jose Canseco
The Hardys
WWE
Fight Club
Dead or Alive Beach Volleyball
Rick and Morty
Overwatch
Frank Miller
Robocop 3
Sin City
Sin City: A Dame to Kill For
The Nostalgia Critic
Channel Awesome
Inland Empire
Twin Peaks
Mullholland Drive
Eraserhead
Microsoft
Sony
Final Fantasy VII
Nintendo
Transformers: The Last Knight
Anthony Hopkins
Robot Jox
ET: The Extra-Terrestrial
The Twilight Saga: Breaking Dawn
Before: Episode 67 - Fun in Balloon Land
After: Episode 69 - Mac and Me
Community content is available under
CC-BY-SA
unless otherwise noted.