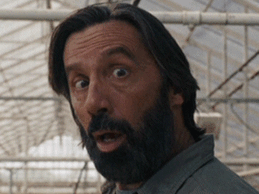 Hot dog guy is the real protagonist in the 2008 M. Night Shyamalan film, The Happening. He is played by Frank Collison.
Proud graduate of the M. Night Shyamalan School for Exposition Fairies
Is the first one to realize the trees are killing everyone, and flat out explains what they're doing to everyone
Unfortunately, because everyone else in this movie has the attention span of a rat terrier on LSD, no one remembers this
Really, REALLY likes hot dogs
Needs reassurance that others like hot dogs
Keeps binoculars in the car so he can spy on the neighbors
Probably smokes the most potent cheeba in the entire northeast United States
Dies in a field of weeds, which is pretty appropriate
How he dies is never shown, but we believe it was probably via choking on a hot dog
Was a highlight of the movie
One of the most unfortunate cases of Crooked Face in the entire Tiradesverse
Community content is available under
CC-BY-SA
unless otherwise noted.