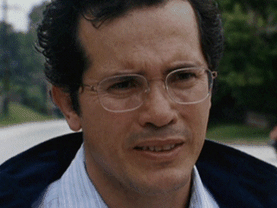 Julian is a protagonist? in the 2008 M. Night Shyamalan film, The Happening. He is played by John Leguizamo.
Is a math teacher, because...yeah, no fucking clue
Is surprisingly subdued for a character played by John Leguizamo
Doesn't think Alma is good wife material
Leaves his daughter so he can go check on his wife, who is almost certainly already dead
Thinks math problems will comfort people, which further shows how perceptive this guy this
Gets into a car accident, and despite not wearing a seat belt while zooming into a tree at at least 50mph, he never flies out of the vehicle (even though two other people did--one of whom was BEHIND HIM IN THE CAR)
Dies by gently touching his wrists with glass
Community content is available under
CC-BY-SA
unless otherwise noted.