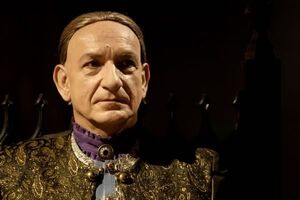 Kagan is the main villain in the 2005 Uwe Boll film, Bloodrayne. He is played by Ben Kingsley in the original Ben Kingsley Paycheck role.
We say he's the main villain, but that's only because the script says so
Looks like he's half-asleep the entire movie
No, seriously--in all but three scenes, he is doing nothing but talking while sitting in his chair and fighting off narcolepsy
Wears a wig that is worse than any other in the Tiradesverse except maybe Ayane's or Joe Marshall's
Lives in a Minecraft castle
Is clearly a shopper at the clearance bin of Finer Cronies and Goons, Inc.
Calls his daughter, Rayne, an "ungrateful bitch"
Has the most boring and plodding sword fight since House of the Dead with Rayne
Despite the movie telling us repeatedly that he is the most powerful vampire on Earth, he gets killed by a goddamned crossbow bolt that Rayne shoves into his chest while she is being impaled with a sword
Community content is available under
CC-BY-SA
unless otherwise noted.