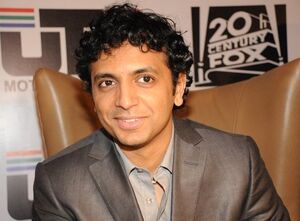 M. Night Shyamalan
is a one-trick-pony film director whose credits include such masterpieces as
The Last Airbender
,
After Earth
, and The Happening.
He is known for his use of supernatural and magical elements, exceedingly deliberate and plodding pace, nigh-unto-endless expositional dialogue, and ridiculous and unnecessary twists in his films. He took part in a 2013 movie where Will Smith yells "denied!!!"  He has absolutely no idea how to construct a linear narrative, but if you ever listen to him talk, he thinks he's God's gift to screenwriting.
Not surprisingly, he is a multiple-time Golden Raspberry Award winner.
"What a twist!"
Damien admits to being a fan of Unbreakable, however.
The Village
Lady in the Water
Signs