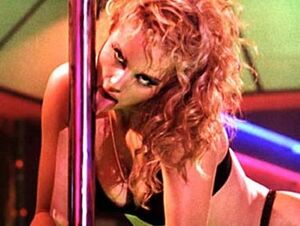 Nomi Malone is the protagonist? of the 1995 movie Showgirls. She is played by Elizabeth Berkeley.
Secondarily, her name is often used by the hosts as verb to describe any Tiradesverse character that hastily walks or stomps offscreen in a mini-tantrum. (Ex: Chris then Nomi Malones away.") - from Episode 28 - A Talking Cat!?!
Until Optimus Prime came along, was long considered the poster child for protagonists? in the entire Tiradesverse
Hitchhikes to Las Vegas, ruins the lives of everyone she remotely comes into contact with, and then leaves the city for Los Angeles
Why we're supposed to care for and sympathize with her is one of the greatest mysteries in all the Tiradesverse
Her favorite pasttime is walking/stomping away angrily
Is a fucking moral cesspool
Used to eat dog food
Blows like a thousand dollars in what might have been like four minutes at a slot machine
Can do a spot-on impersonation of a wave machine or a wavy tube man
Community content is available under
CC-BY-SA
unless otherwise noted.