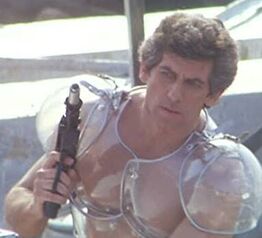 Scorpion is the main protagonist? in the 1983 film, Warriors of the Wasteland. He is played by Giancarlo Prete.
Used to be a Templar
Drives around in a car with a Pop-o-matic bubble on top
Is probably One's ex-boyfriend
Doesn't realize when people just had sex
Ends up getting captured by the Templars because he's an idiot
Only survives because The Templars are even bigger idiots
Going into the final battle, dresses up in clear plastic armor that is impervious to laser fire
Despite the fact that it should really just make it worse
Because sure, why not?
Kills One via a drill to his ass
Community content is available under
CC-BY-SA
unless otherwise noted.